Top Quality Corporate Magician
Make your corporate event Unmissable and Unforgettable
Leave your guests speechless, and make it a corporate or business event to remember, with award-winning magic
Looking to hire the best corporate magician?
Corporate Magic –
The One They'll Remember
Reliable, Easy to work with, Astonishing
You have a very busy schedule; maybe it's pressured. The perfect solution: guaranteed top quality entertainment from someone who will listen to the remit, be easy to work with both before, during and after the event and who will knock everyone's socks off giving an event that will be talked about for years. Welcome to Red Hat Magic: The corporate magician you won't forget.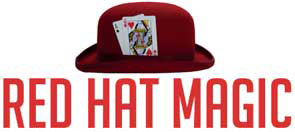 Red Hat Magic is Surrey and London's favourite Corporate Magician
"I recently booked Danny for a corporate event and he was fantastic. All our guests were amazed by his magic tricks and were very entertained by him! Danny also kept me in the loop the whole way through the process, making the organisational side much easier! Thanks Danny for entertaining our guests and I'd highly recommend".   Kayleigh Preedy – NEST Corporation.  11th May 2018
"I cannot recommend Danny enough! We had a private performance at our corporate dinner as we wanted something a little different from the usual after dinner speaker and Danny did not disappoint. The magic was amazing and very entertaining for all of the guest. The room was filled with gasps, applause and open mouths all evening as Danny continued to dazzle us with his skills in a vast range of tricks (I hate to use that word as he is truly magic). All of the guests were left amazed and were still talking about it at breakfast the next day with excitement. In addition to the showmanship, Danny is lovely to work with and kept in touch to discuss our needs, arrived early and stayed long after the coffees, very professional. Thank you Danny for the unique show and we can't wait to see you again."  Christine Davies. Zilico 15 May 2019
5 Things You Should Expect from a Corporate Magician For Hire
A magician should absolutely wow your guests and not just be 'just another guest' in the room. A lot people may not have even met a magician before so the guests may have a lot questions in between performances -this is totally fine!
A Corporate Magician Should:
Deliver on your goals
Be flexible and easy to work with
Have the expertise to advise if necessary
Entertain all guests whether they are sitting or standing
Enhance your status and that of the company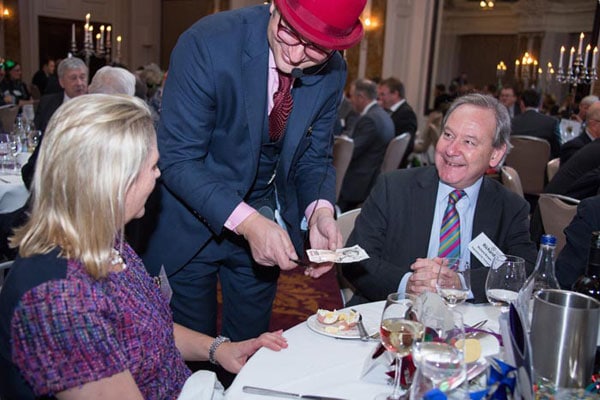 "Danny was an incredibly friendly and reliable individual who went over and above what was required for him. The feedback we received regarding Danny's approach was truly excellent and I would certainly be keen to use him again for similar events". — Katie Balls
Red Hat Magic – is The No 1 Corporate Magician for Hire
Red Hat Magic – A truly mind-blowing corporate magician that will leave your guests astounded:
Guarantee:-  If your guests do not congratulate you on hiring Red Hat Magic you get your money back.
Insurance:-  Red Hat Magic has Public Liability Insurance of £10,000,000 (required by most venues).
Memberships:-  Red Hat Magic is a member of The Magic Circle and Equity.
Clients Include:-  GlaxoSmithKline, Chartered Institute Of Logistics and Transport, The Army, The Navy, Marks and Spencer, MacDonalds, The NEST Corporation, Squires, Farnham Borough Council, The Harrow at Little Bedwyn (Michelin restaurant), Johnson Publishing, Redwood Technologies Group, Mary's Cars, Accor Hotel Group, Village Hotel Group, Clifford Chance LLP, City of London Police, The Masons, David Lloyd and many others.
 
Red Hat Magic is the No 1 Corporate Magician