Ever been to a wedding that was really lovely, but just a bit...
...
dull?
boring?
stressful?
Celebrate your happiest day stress free and laughter full with Danny, your Magical Emcee!
Bring fun and laughter to all the quiet and slow bits during the day. Your big day should be special for your guests too.

You can see a video here. It shows asian weddings, white weddings, stately home weddings, barn weddings, a variety of magic... but most of all lots of fun, laughter and wonder!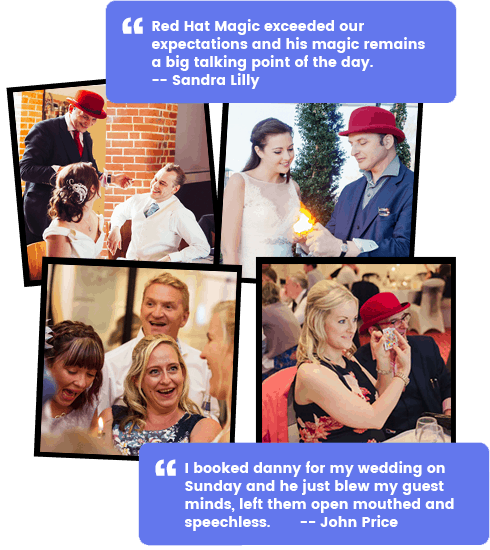 Set the standard for great weddings and hire a wedding magician emcee to make sure everyone is entertained & that you have time to enjoy your own big day!
"Two years on from when you performed for us at our wedding we still have lovely feedback"
---Emma
How do you turn a group of strangers into a party?
What do you do when you have a big room full of friends, families and work colleagues that probably do not know each other? (or in some cases not even like each other!)

Wouldn't it be great if someone would just make everything work, so that you don't have to to stress, everyone has fun, everything runs to time and the day is remembered by you and your guests for ever?
Welcome to Danny, your Magical Wedding Emcee - your upbeat, modern toastmaster making sure everything runs smoothly, that uncle Jimmy is where he's meant to be, and that everyone has an amazing time with mind reading, magic and loads of humour.

"Funny and warm, Danny is a natural entertainer" Antony Snow

"He's so much fun. We 100% recommend Danny" Carly Scholes
"Had Red Hat Magic at our wedding in November. Such an amazing act and a talking point long after the day was over. Amazing and unusual close-up magic, tricks that I've never seen before. Danny is a natural entertainer who puts everything into his craft, wouldn't hesitate to recommend him for weddings, parties, corporate events or any other occasion."
---Neville Hammett, a wedding magician review on Google
What can you expect from a must-have wedding magical emcee?
These are the opportunities for Red Hat Magic to bring focus on the most important things of the day. They are YOU, YOUR WEDDING, and how it is the best, most fun and most memorable wedding that anyone has been to.
Magical Wedding Emcee Packages
The best time to have Red Hat Magic dazzle you and your guests is when there is the least going on.
So there are quite a few times!
"Danny is beyond brilliant!! Super talented and highly entertaining. We were lucky enough to have Danny come to our wedding reception where he amazed all of our guests with his incredible magic! He is very easy to communicate with and nothing is too much trouble for him... an all-round super nice guy. Don't hesitate, you'll be wanting to plan another party just to have him back! Cannot recommend highly enough. Thank you, thank you, thank you xxx"
--- Angela Taylor, wedding magician review on Google.
It's your big day.
Enjoy it more with a toastmaster magician for weddings.
** Bookings are already filling up for 2022 **
Don't miss out and make your wedding a spectacular one!
Contact Danny your magical wedding emcee today for a simple chat to find out more. Our booking process is very simple and we'll get in touch with the best man and maid of honour when you are ready.
"Danny was the magician at our wedding and I can't tell you how fantastic he was. We were let down and he came in to save the day. Our guests have mentioned several times since our wedding just how brilliant Danny was and it made a great addition to our day. Thank you again and I hope we can use you again another time!"
--- Vanessa Whitaker, wedding magician review on Google
Why Choose Red Hat Magic?
Red Hat Magic has mind-blowing, original tricks that are performed in the most entertaining and engaging way possible. You and your guests will be stunned by tricks using mind reading, fire, ice, cards, money, personal items, chocolate, mobile phones and more. Danny will have jaws dropping even as your guests are laughing.
Did you know about his Magician Awards?
Danny at Red Hat Magic has been nominated and awarded several types of prestigious accolades and honors! These and the accreditation's he has received include:
Lux Magazine's Best Wedding Entertainment 2020
The Global Entertainment Awards Best Private Events Magician 2018
Over a 57 5-Star reviews on the Red Hat Magic Facebook page
The Ravenswood
Somerley
Losely Park
Goodwood House
Ferniehirst Castle
Froyle Park
Northbrook Park
Woodlands Park
Groomes
Highfield Park
Frensham Pond Hotel
The Casa Hotel
Blank Canvas Weddings
Gate Street Barn
The Groundlings Theatre
The Bush Hotel
The Old Vicarage
….and many more!