Wedding Magician Hampshire

Make your perfect day memorable with a Professional Magician
Don't let your once in a life-time event be the let down of the year. Make it truly memorable and enjoyable with award-winning entertainment from the premier magician in Hampshire Red Hat!
Our Red Hat Magician Hampshire bookings are already filling up for mid to late 2020 and also 2021, get in touch so you don't miss out and make your day a spectacular and unforgettable one!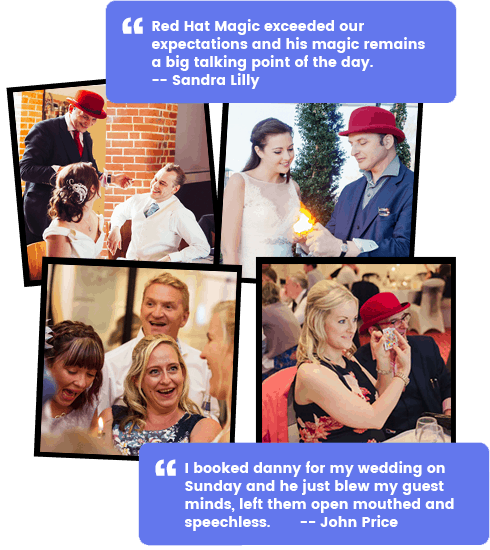 Set the standard for great weddings in Hampshire and hire a wedding magician for maximum entertainment for all your guests!
"Two years on from when you performed for us at our Hampshire wedding we still have lovely feedback"
---Emma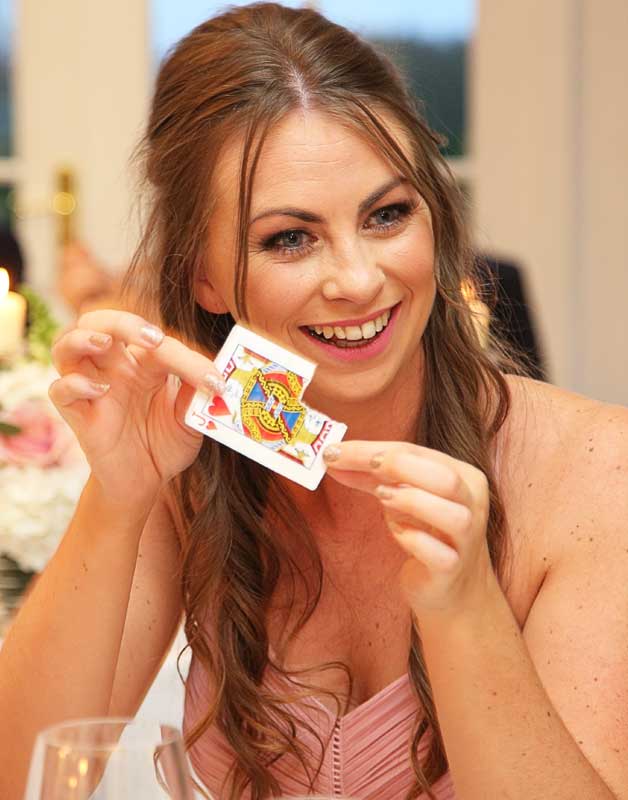 A pretty woman shows a trick from the Red Hat magician in Hampshire, holding a playing card with the corner torn off at a Hampshire wedding
Bride and Groom laughing with the Red Hatted magician in Hampshire
Q: How do you get a group of strangers break the ice at a much hyped Hampshire event into the party?
A: Hire the most highly recommended and experienced corporate event and close up magician in Hampshire to entertain them with unique close-up magic, sleight of hand and mind-reading. Bring all your guests together with locally based Hampshire magician Danny.
Q:What do you do when you have a room full guests; loved ones, close friends, family and work colleagues that may not know each other (or in some cases not even like each other!) and have all travelled to Hampshire for a great time?
A: Engage a top Hampshire magician! A professional who's honed his skills as a close-up magician at corporate events and many a birthday party will enhance any part of your event, creating an unforgettable and magical time. Yes, that includes Granny and Grandad grumbling about on the sides! Hampshire magician Red Hat Magic will bring the comedy and energy so that every guest buzzes with joy and the day sparkles.
As one of the top magicians in Hampshire. and the surrounding area, The Red Hat party magician has a range of prices to suit all occasions and venues from £300 - £1100 with most choosing spending £600 on a magician Hampshire. Bookings for the Red Hat magician in Hampshire are currently very popular, please get in touch soon so we can reserve your entertainment for your event.
""We had Red Hat Magic at our wedding in November. Such an amazing act and a talking point long after the day was over. Amazing unusual close-up magic and mind reading tricks that I've never seen before. Hampshire Magician Danny is a natural entertainer who puts everything into his craft, wouldn't hesitate to recommend him for weddings, parties, corporate events or any other occasion."
---Neville Hammett, wedding magician in Hampshire review on Google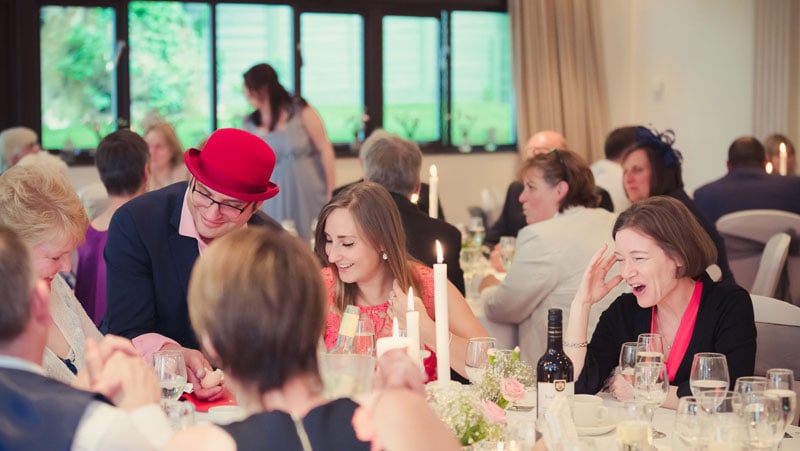 Hampshire Wedding guests astonished at close-up magic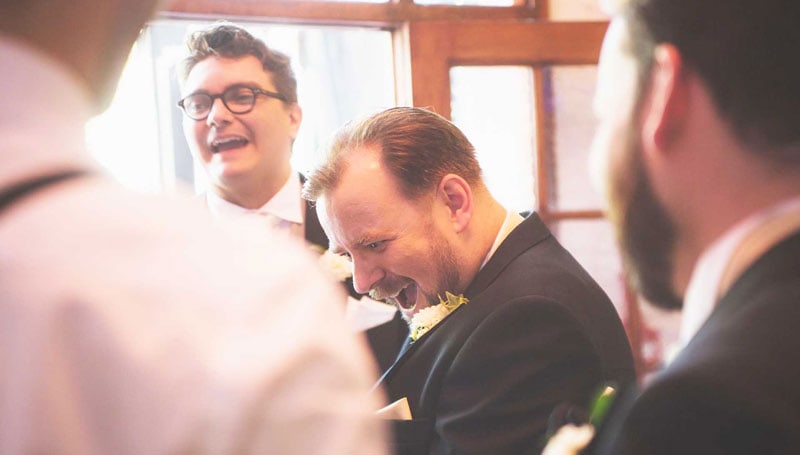 Grooms laughing in astonishment at a magic trick performed at a gay wedding by the Magician Danny in Hampshire
The close up specialist Red Hatted Hampshire Magician creates a ball of fire at a Hampshire party surrounded by people laughing
What you can expect from must-have London wedding entertainment?
Your special day is where the top corporate event and party magician in Hampshire Red Hat brings focus to the most important things; YOU and YOUR WEDDING as one of the outstanding magicians in Hampshire he creates the most enjoyable, fun and magic entertainment that anyone has ever been seen.
When is the best time of the day to book your Wedding Magician in Hampshire?
The best time to have Red Hat Magic dazzle you and your guests is when there is the least going on.
There are quite a few times for a wedding magician to shine!
You are having your fabulous photos taken and your guests are looking for people they know to talk to or wondering when is lunch! Time for close-up magician Red Hat to get the energy going and MIX AND MINGLE providing mind reading, close up magic and sleight of hand tricks to keep your Hampshire guests energised for their photo-call. Make it an event to be remembered!
Your delicious meal is being served and the guests are happy but the event is a bit quiet. This is when between courses the Red Hat magician Hampshire gives each table a close up PERSONAL SHOW! Then the top table guests will receive some special custom magic made just for them. The wedding breakfast need not bore your guests anymore. Red Hat Magic is one of the only magicians in Hampshire who will contact your best man and maid of honour to carefully craft the custom show specially for your event and your guests.
The evening and day guests need to be integrated but not everyone wants to dance and the hotel dance floor is looking a little bare. Get them fired up with top Hampshire magician Danny and Red Hat Magic. Reading minds and charming onlookers Magician Danny performs miracles with a bit of banter thrown in. Cheering and laughter become the norm, making your Hampshire wedding experience magic!
"The Red Hat magician Danny is beyond brilliant!! A super talented and highly entertaining close-up magician. We were lucky enough to have Danny come to our wedding reception in Hampshire where he amazed all of our guests with his incredible magic! He is very easy to communicate with and nothing is too much trouble for him... an all-round super nice guy. Don't hesitate, you'll be wanting to plan another party just to have him back! I cannot recommend him highly enough. Thank you, thank you, thank you xxx"
--- Angela Taylor, magician Hampshire review on Google.
It's your big day.
Enjoy it more with a magician for weddings.
** The Red Hat Magician Hampshire bookings are already filling up for 2021 and also 2022 **
Don't miss out and make your wedding a spectacular one!
Contact Hampshire party magician Danny today for a simple chat to find out more about how he can add a sparkle to your event. Our wedding magician Hampshire booking process is simple and he'll connect with the best man and maid of honour when you are ready to plan an event that will delight your guests.
"Danny was the magician at our wedding and I can't tell you how fantastic he was. We were let down and he came in to save the day. Our guests have mentioned several times since our wedding just how brilliant a magician Danny was and it made a great addition to our day. Thank you again and I hope we can use you again another time!"
--- Vanessa Whitaker, wedding magician Hampshire review on Google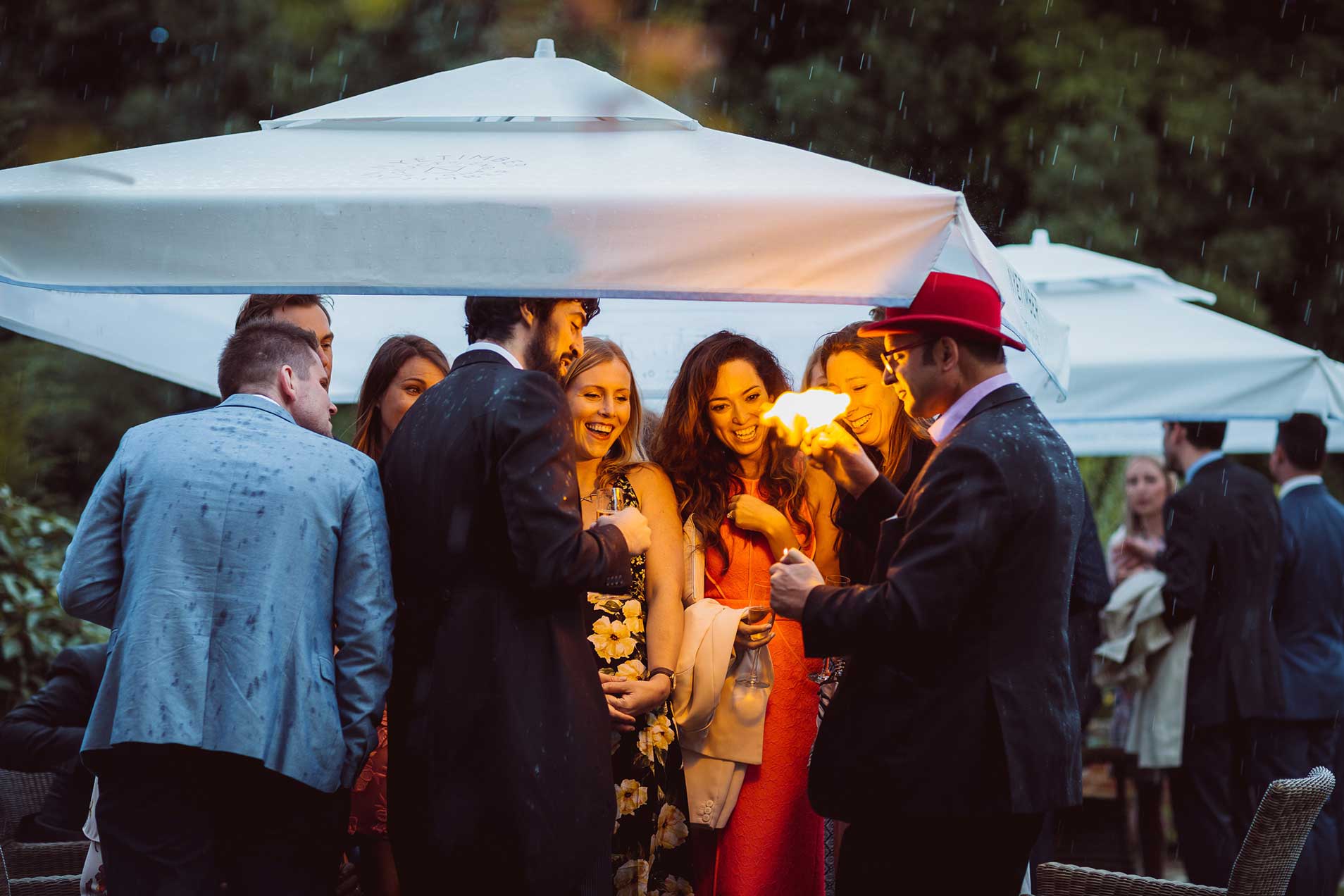 Hampshire magician Danny dazzling guests with Fire tricks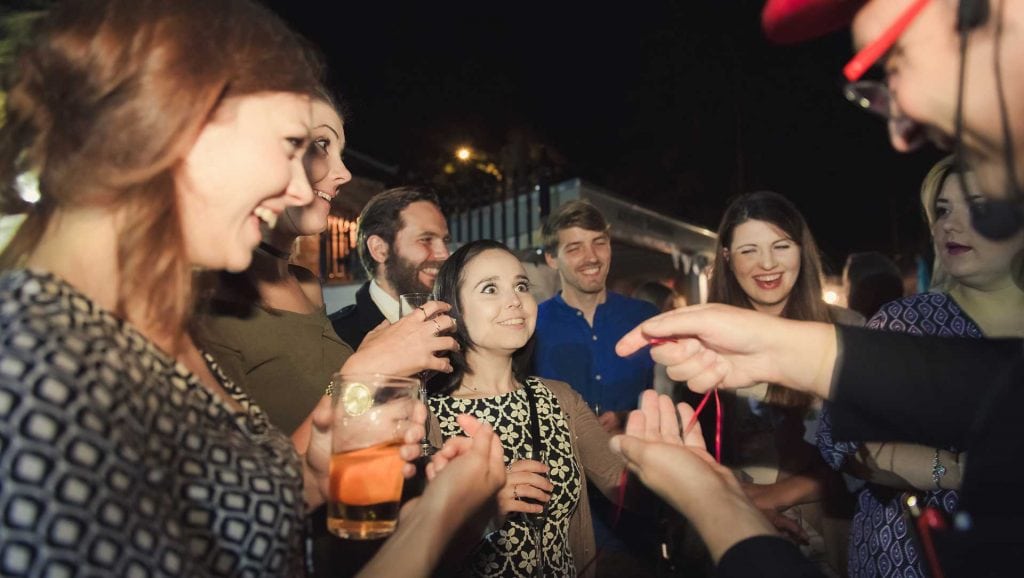 Red Hat Magician in Hampshire with some masterful close up tricks
Why Choose the Red Hat Hampshire Magician?
Over many years Hampshire professional magician Danny has developed mind-blowing, original tricks. Performing sleight of hand magic in the most entertaining and engaging way possible by a unique magic mind. Whether at a corporate event, wedding or Christmas party in Hampshire or elsewhere in the UK. You and your guests will be stunned by this Hampshire magician using mind reading tricks and manipulating fire, ice, cards, money, personal items, chocolate, mobile phones and more. The Red Hat Magician will have jaws dropping and laughter ringing round your private gathering , Christmas party or corporate event in Hampshire.
Did You Know About Awards given to the Red Hat Magician ?
Hampshire magician Danny and Red Hat Magic have been nominated and awarded many prestigious accolades and honours for his performances at private and corporate events nationwide. The many accreditation's and accolades for entertainment he has received include:
The Ravenswood
Somerley
Losely Park
Goodwood House
Ferniehirst Castle
Froyle Park
Northbrook Park
Woodlands Park
Groomes
Highfield Park
Frensham Pond Hotel
The Casa Hotel
Blank Canvas Weddings
Gate Street Barn
The Groundlings Theatre
The Bush Hotel
The Old Vicarage
….and many more!